Artwork above by Emily Poole, Emerald Cafe logo
Community Engagement
We fund programs that bring artists, designers, scientists, and writers together to engage local communities in conservation. Scholarship amounts vary from $150 to $3500 depending on the need. We accept applications on a rolling basis. To apply, please fill out our Scholarship Application Form.
Examples include public art combined with a lecture series, workshops that encourage art/sci collaboration, and other outreach activities such as after school programs or adult education.
Recent Community Engagement Scholars
Emily Poole, artist
Emily joined the 2019 Guyana course Lucy teaches for RISD as a scholar with two goals: to provide inspiration and informal art instruction to the students, and to continue to work closely with the Surama community to make art that encourages sustainable tourism. Emily began this work during a prior visit to Guyana with WWF. In addition to her illustrations, Emily designed logos for a local tour company and internet cafe owned and operated by Guyanese herpetologist and Surama village resident Kenneth Butler. The two plan to continue their collaboration.
"My time in Guyana completely refocused my direction as an artist, and taught me that I don't have to choose between passions for art and science in order to start making an impact in the world - I only have to combine them."

website: epooleart.com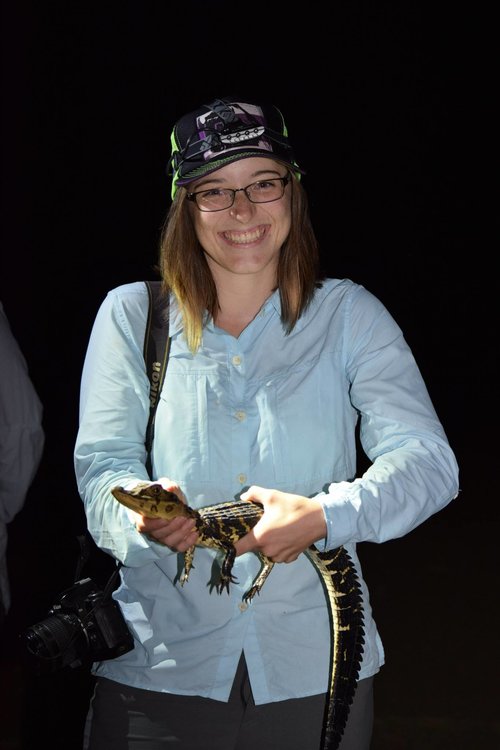 ART+SCIENCE COLLABORATION
Bringing artists, designers, and scientists together is our core mission. We believe the process of working creatively together is just as important as the end result. Our scholars discover that art+science collaboration is challenging, exciting, eye-opening, informative, interesting, and surprising.
In many cases, our Creature Conserve scholars are blazing new trails; they may be the first artist or designer to shadow a scientist or work as part of a scientific team, or the first scientist to travel with a group of artists learning about hot topics in conservation. Together, these rising artists and scientists are exploring new ways to make saving species more accessible, meaningful, and relevant.
INTERESTED IN HOSTING A CREATURE CONSERVE SCHOLAR?
If you are interested in HOSTING A SCHOLAR or finding an art/sci collaborator, please email drlucy@creatureconserve.com. We are building a registry of scientists active in conservation who are interested in collaborating with artists, designers, and writers.